Cruising has always been ahead of the technology curve, but in a post-Covid world, innovation is more vital than ever. MSC Cruises, Royal Caribbean and Princess are leading the way when it comes to cruise ship technology, developing wearable technology, virtual assistants and coin-sized smart medallions, all of which can help reduce crowding, queuing and contact.
But technology can also be fun – just ask Virgin Voyages – so read on to find out about some of the exciting new features on board and onshore, and how they can make cruising a safer, more convenient and more enjoyable experience.
1. Princess Cruises' Ocean Medallion
One of the most advanced pieces of kit in the cruise industry currently, the 10p-sized Ocean Medallion packs an impressive array of features into its tiny dimensions. Replacing the traditional cruise card, not only is it a wearable device (so you can't lose it), it's also an app and a service that provides faster internet connection. With your medallion linked up to your smartphone, you can place orders remotely, locate friends and family on the ship using GPS, and book excursions and restaurants.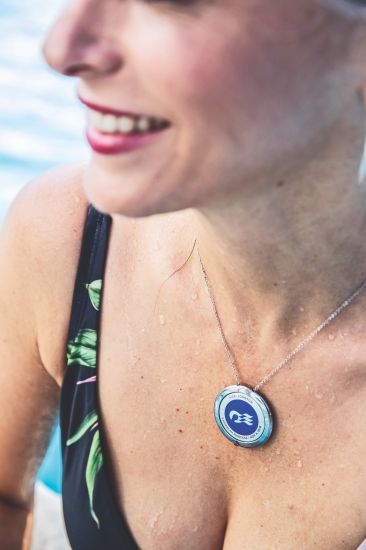 Unlocking your stateroom door as you approach, and allowing for contactless orders, Ocean Medallion is timely technology in a post-Covid world, eliminating touchpoints, queuing and contact with crew.
2. Intelligent wristbands
Passengers travelling on six of MSC's newest megaships will get to experience the cruise line's smart wristband, MSC for Me. Operating through an app and available before and during the cruise, the wristband connects passengers with crew and the ship, offering an impressive array of benefits and services. There's MSC for Me Chat, allowing guests to message each other directly without the need for wi-fi, and a friends-and-family locator that should prove especially handy for keeping tabs on the kids.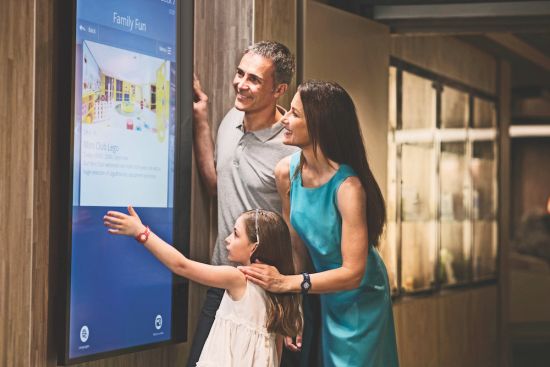 Other useful features include a 'what to eat' guide, filled with destination-inspired dishes to try, and a function to book excursions and restaurant tables remotely.
Offering similar benefits and already familiar to Royal Caribbean cruisers, the line's WOWband is a ready-to-wear, water-resistant wristband that looks like a watch strap. It works using radio frequency technology and allows guests to unlock stateroom doors without a keycard (suite guests can also unlock exclusive lounges). Another huge bonus is being able to make touchless purchases at the ship's bars and shops, limiting contact with crew and avoiding queues.
3. Selfie recognition
Check-in and boarding are the most time-consuming and often frustrating parts of any cruise, and when thousands of passengers are boarding at once, it's even more of an issue in today's climate. Fortunately, the big names were already working on solutions before the pandemic, and Royal Caribbean rolled out facial recognition technology last year.
Also available on Royal Caribbean-owned Celebrity Cruises (look out for it on Celebrity Edge and Apex), the new tech allows guests to check in by simply taking a selfie and uploading it to an app. The company's facial recognition technology does the rest, eliminating the need for queuing, aiding with social distancing and enabling guests to go from 'car to bar' in just 10 minutes.
Using the same app, passengers can also see their itinerary and link their reservation to those of other guests, allowing them to book excursions and dinners together. Guests on Oasis of the Seas can even use the app as a remote for their TV.
Facial recognition may not have been designed with Covid in mind – but it's undoubtedly a technology whose time has come.
4. Meet ZOE…
Anyone else still find themselves calling out for Alexa or Google Home while they're away? Normally you won't get a reply, but sail with MSC Cruises and you'll hear that same reassuring voice under a different name. Pioneering artificial intelligence on board cruise ships, MSC has introduced its very own voice-enabled virtual assistant, ZOE.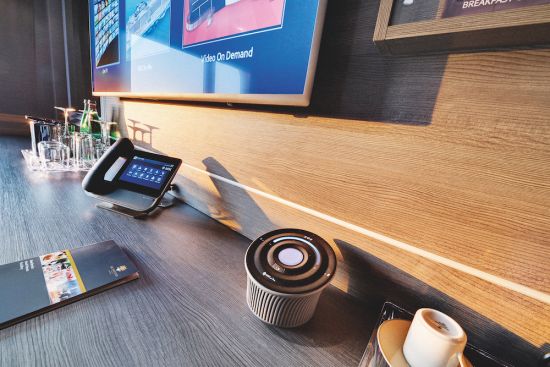 Found in your cabin, she can reserve restaurants and excursions, check your bill and even keep you entertained on sea days. You can ask her some 800 questions about life on board, and she speaks seven languages. ZOE is currently available on MSC's two newest ships, Grandiosa and Bellissima, and will also be installed on the upcoming Virtuosa.
5. Augmented reality
Ready for a glimpse of the future? Celebrity Edge is like no other cruise ship, and Celebrity's hi-tech app can give you an onboard tour like you've never experienced before.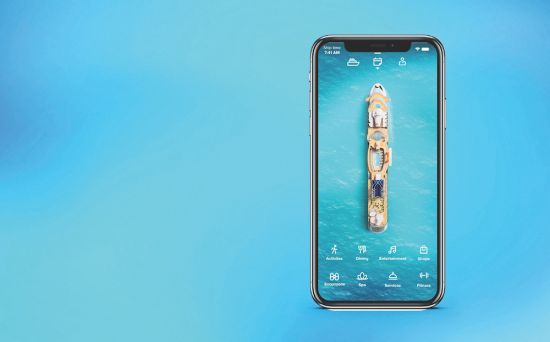 Using binaural audio, soundscaping and 3D augmented reality technology, the Celebrity Edge Access Tour takes you virtually behind the scenes on this revolutionary new ship, even allowing access to areas typically off limits, including the bridge and engine room. The app is free to download and can be used from anywhere in the world.
6. Shake for champagne
The debut of Virgin Voyages' first ship, Scarlet Lady, may have been pushed back, but awaiting passengers when she does launch is an ultra-modern cruising experience. Everything on board is about ease and convenience, and passengers can download an app to order meals, book exercise classes and track their friends.
However, our absolute favourite piece of tech is the 'shake for champagne' feature on the ship's app, which will order a glass (or bottle) of Moët to be delivered to wherever you happen to be at the time – all with a wave of your smartphone.
7. Tech for teens
MSC Cruises has been busy improving the experience of its younger passengers. MSC Meraviglia has an interactive multimedia table resembling a giant iPad, which can be used to send messages and share music, thereby encouraging teens to make friends through the medium of technology. The ship also has an HP Sprout, scanner and 3D printer, allowing kids to take traditional arts and crafts to a new level.
Norwegian Cruise Line has been thinking along similar lines, with a 10,000sq ft gaming complex built into its new Norwegian Encore, where guests can enjoy virtual reality racing and an escape room challenge.
Want to read more articles like this...
Sign up for our newsletter.